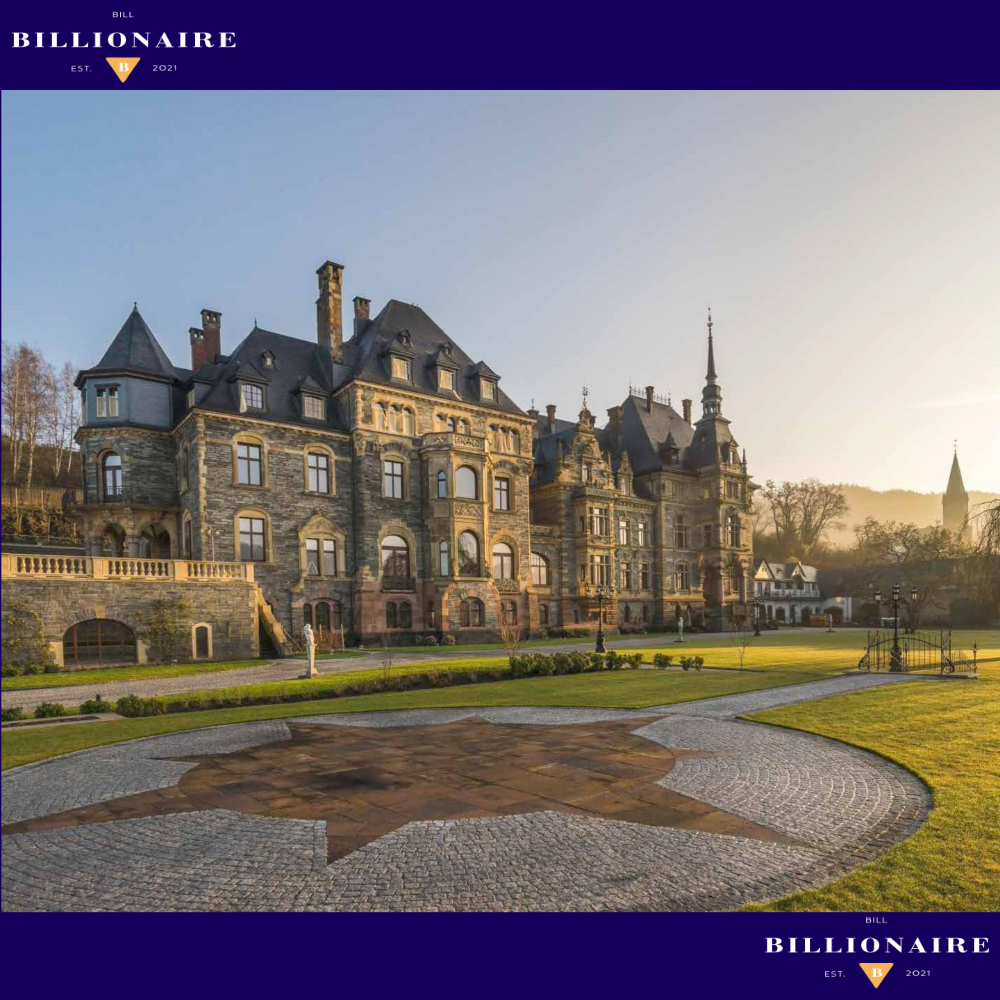 5 September 2023
The Billionaire Network is excited to offer the Hotel Schloss Lieser For Sale Located In Germany
POA
Details
Historical fairytale castle from the 19th century, which was built from 2007-2018 has been restored to the highest standard and converted into a luxury hotel
Geothermal heat pump, air conditioning in all guest rooms, high-quality installations, noble materials, little maintenance on the building because of the natural structure of basalt and slate
Unique location between the banks of the Moselle and vineyards, integrated into the local community of Lieser. Lieser belongs to Bernkastel-Kues, the tourist center of the region. The Verbandsgemeinde Bernkastel-Kues has approx. 28,000 inhabitants in relation to 1.4 million overnight stays per year by tourists.
Boutique hotel with 50 elegantly furnished hotel rooms and suites with a picturesque view of the Moselle or vineyards
Main restaurant, 2 side restaurants, a bar, a wine cellar, terrace and outbuildings with 2- storey ballroom including courtyard terrace, bar and professional kitchen.
The castle's own chapel and the registry office form the perfect setting for weddings. Church and civil weddings are permitted.
Spa area with marble pool, underground car park, castle library and park
Lease with Odyssey Hotel Group, franchisee of Marriott. Hotel Schloss Lieser is managed as the first Marriott Autograph Collection Hotel in Germany.
Achieved according to DEHOGA Hotel Schloss Lieser awarded the category "5 Star Plus".
Lease contract valid until 2038 plus 2x 5-year extension options. The lease can be taken over or canceled for a transfer fee.
Excellent service and experienced management by the luxury hotel group Marriott, which has the world's best collection of 5-starPkus luxury real estate operates
Additional development potential through already planned Extension of a hotel's own boat mooring
Own bank in front of the castle with lawn for sunbathing
Schloss Lieser is situated in the southwest corner of Rhineland-Palatinate, the Moselle region of Germany. The region is close to the borders of Belgium, France and Luxembourg. The area has excellent transport connections for domestic and international visitors arriving by road, rail, air or river.
The Moselle region is one of the most popular holiday regions in Germany, and one of the countries biggest wine-growing districts. Every year, the Ries- ling Canyon attracts several hundred thousand tourists and wine connoisseurs to its steep slopes and vast field of vines.
Over the course of millennia, the River Moselle has shaped this region, giving rise to the world's largest area of wine-growing slopes, one of the most prom- inent vineyards, the Bremmer Calmont, is also world's steepest with an incline of 68 degrees.
Since the 19th century, the region has been established as a gourmet destination with much to delight gastronomes. Twenty sites are designated as grand cru, putting the Moselle region on a par with Burgundy in France and Rioja in Spain.
All of this shows that the Moselle microclimate is ideally suited. Overall, the idyllic landscape presents a perfect blend of sporting options, cultural events, historic forts and castles and world-famous vineyards for holidaymakers, individual business traveler's as well as MICE events.
Please note this hotel is being offer by someone who does not have a mandate to sell this hotel. Please see here for our advice on this.
For speed please view these 2 PDF documents for greater detail PDF ONE – PDF TWO
COMMISSIONS AVAILABLE TO ANYONE FOR SUCCESSFUL CLOSURE
For more information please contact us ASAP